site links
06/07/18 | Canadian Grand Prix - June brings my annual trip to Montreal for The Grand Prix of Canada. It's a three way win for me as I spend time with friends back east, I see three days of racing, and I get to spend time in Montreal. The 8 or so hour drive through PA, NJ, and NY is nice and it's a great way to catch up with my friends. Crossing the border into Canada is typically a non-event, and we get into town on Thursday night in time for three days of racing. Thursday night is one of the best times to go to Old Town if you want to avoid the crowds. This year, like most, we stopped for dinner at Modavie and I had my traditional meal of steak frites. They had a two person music act on stage which added some nice jazz music to the evening.

There are many room options in a city of this size, but we typically book our rooms a year in advance because the race weekend usually means a sell out everywhere. This year, we found a great B & B called La Conciergerie. It's two victorian homes combined into a 17 room guest house. I was quite pleased with the accomidations. They serve a nice continental breakfast and have a great patio/garden to relax in. Additionally, there is a shared living room and a breakfast area. There are no televisions in the rooms and you may have to share a bathroom with a couple other folks, but neither of these were an issue for me. It's only a block away from the Metro and within walking distance of Old Town, The Latin Quarter, and other places of interest. The hosts, Luc and Michael were great. I'd go back there again, even for a non-race weekend.

The main reason for this annual trip, however, is the racing. The F1 weekend starts Friday with practice, some racing an qualifying on Saturday, and the Formula 1 race on Sunday. The support races usually include Ferraris, Porsches, and Formula 1600's. I'm not a fan of the 1600's but the Porsches and Ferraris put on a good show. Our seats are at the hairpin (turn 10) which is a place where you are likely to see some passing. There are two jumbotrons to see the action when the cars are not in view. It's probably the best place on the track to watch the race, in my opinion.

For the main race, as in the supporting races, the hairpin is one of the best places to see passing. Unfortunately, this year had little to no passing and while the qualifying was excitng, this years race was a bit of a snoozer. Qualifying looked promising with three teams evenly spread across the top six positions, but the first three starters were the first three finishers. As much as I love Montreal, me and my friends are considering some other venue for racing. I would still like go back on a non race weekend to see more of the city and what it has to offer.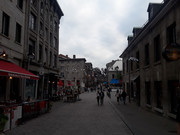 Old Town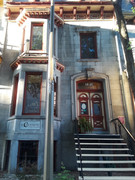 La Conciergerie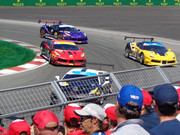 Ferrari Challenge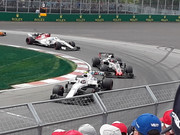 F1